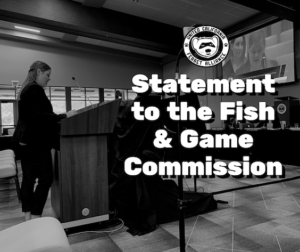 Statement read at Fish & Game Commission Hearing (10/9/19)
I am Megan Mitchell of the United California Ferret Alliance. Thank you Commission for being helpful in April when we first approached you and thank you staff for taking the time to meet with us in June. A public petition was not necessary to understand the limitations of the Commission.
We agree with ferret enthusiasts & the scientific community that ferrets are not wildlife. However, we understand that changing a single word may seem simple but that this petition's request is actually is much more complicated. As your staff translated in the agenda it would 'remove ferrets from the restricted species list."
Decriminalizing ferrets requires more than simply reclassify ferrets. We're following your previous advice President Skylar to go through the state legislature to address the ban.
UCFA is the voice of multiple ferret clubs across the state, our members support our approach. Ferret enthusiasts are passionate, thats why after 30 years we're still here.
199 ferret enthusiasts wrote in to support the petition because they were mislead in the simplicity of the law. They are hungry for progress, any progress. So when the petitioner told them this was a simple request and they could have an impact, they believed.  The petitioner has also complicated things by misinforming the legislature about the limitations of the Fish & Game Commission.
We know there is no way to make our task simpler or easier. This year UCFA has been working tirelessly to build a network of positive relationships with our politicians in Sacramento, organizations and stage agencies, such as the Commission.
Progress will never be made as long as aggressors and agitators continue to hurt the movement.  It is time for one respected voice to represent ferrets if we truly want to amend the ban.
We know it will take hard work, cooperation and respect from all parties to find legislation that is good for ferret owners and the state of California.
We look forward to continuing to follow your guidance and working to decriminalize ferrets for responsible pet owners.