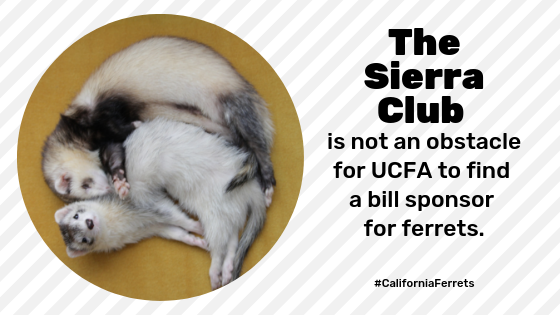 Sierra Club & Decriminalizing Ferrets in California
On Wednesday, August 14, 2019, we had a phone call with Arthur Feinstein, Chair of the Sierra Club's Conservation Committee.  We're very grateful he promptly returned our call and was willing to discuss ferrets with us. We had a thorough conversation that provided some much needed insight to the Ferret v Sierra Club situation. 
We discussed:
No documentation reporting feral ferrets in North America. 
Ferrets are less detrimental to the ecosystem than dogs or cats. 
Ferret bills the Sierra Club opposed 14+ years ago. 
How & when they take a position on any legislative bill. 
The Conservation Committee's current view on ferrets. 
UCFA's approach to decriminalize ferrets for responsible pet owners. 
Based off of our conversation with Mr. Feinstein, we can report that the Sierra Club will not aid in advocacy efforts for ferrets. Their organization is focused on conservation, wildlife & environment protection. According to Mr. Feinstein, pet rights are not a priority. Any bill that could impact the environment goes through a review process and they then take a position (pro, con, or neutral).
How does this translate to effecting our efforts to decriminalize ferrets?
This means they will not amend their classification of ferrets to differ from the state's classification of wildlife, because of their organization's focus on the environment and not pet advocacy. UCFA's plan to amend the ban on ferrets is not affected by their decision. It also means that the Sierra Club is not an obstacle for UCFA to find a bill sponsor. This is GOOD!
Continuing to hold the Sierra Club responsible for the ban on ferrets is misguided. It presents false obstacles that hurt California ferrets from finding a voice in the state legislature. 14+ years ago the Sierra Club opposed ferret legislation along with state agencies. Mr. Feinstein was open about the fact that 2004's SB89 was before his time with the organization and he didn't know that the Sierra Club ever opposed ferret legislation. 
The dedicated ferret advocates remember and we were able to inform him how opposition feels personal when it's about family. Enough time has passed since there has been a legislative bill that the leadership at almost every organization has completely changed, evolved and adjusted their methods; except for the ferret movement. 
This is where we come in. UCFA has a modern take on the ferret issue. We've been able to acknowledge and look past the misinformed ideology of past opposition and focus on a new approach. This includes bringing concerned organizations in on the ground level to be a part of the change.  We aren't working to legalize ferrets. We're fighting to decriminalize domestic ferrets for responsible pet owners.
We've discussed our plans and ideas with the Sierra Club, Fish & Game Commission and Department of Fish and Wildlife. There is still opposition for ferret legalization (plans that haven't been updated in almost 30 years), but we haven't found any for decriminalization.
We're the start of a new chapter in ferret advocacy in California. Please stand with us and join the movement.