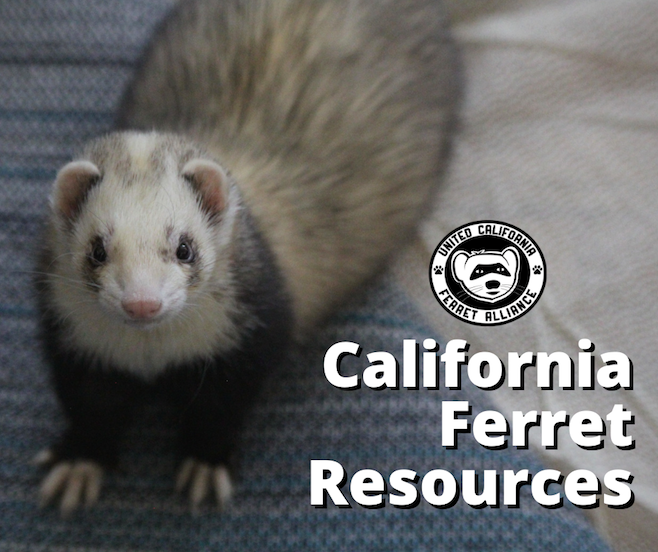 California Ferret Resources (11/28/19)
Ferret Clubs
We love our local ferret clubs. If you like ferrets, need help, advice or want to be part of the community they are a great resource. We all need someone who can watch our fuzzies in case of an emergency and understand the wonderful challenges that comes with owning ferrets. Many of these groups host fun gatherings throughout the year and have a wealth of ferret knowledge. 
Golden State Ferret Society – Bay Area
West Coast Ferrets – Sacramento
Northern California Ferret Alliance – Bay Area
Angel City Ferret Club – Greater Los Angeles
Rescue
There is one permitted ferret rescue in the state. Please contact West Coast Ferrets if you know of a pending ferret confiscation or surrender. They have a well established network across the state that can mobilize to assist the fuzzy in need. 
In 2020, UCFA and our members will focus on supporting the wonderful rescue network and their needs. If you are interested in assisting in rescue please let us know here. 
Medical
Do you have a medical emergency or rescue in need of medical attention? FERN is a wonderful resource. Please direct medical questions to them at Advocates@fern-ca.org.
Learn More About Ferrets
Things We Love For Ferrets
Best Cage
(plenty of space for 2-3 ferrets & no wire floors)
Ferret Nation
Favorite Treat 
(Salmon Oil in an oil mist bottle, not all ferrets like it.)
Favorite Toys & Accessories
Crochet Rattles by the Toy Elf Kristin & Beds, Hammocks, Barrels by Rickie.